MHA Education Pathways
Providing mentors to members of the MHA Nation who are seeking degrees at institutions of higher education and vocational training sites across the country.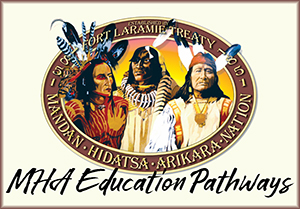 The MHA Education Pathways Program is an MHA funded initiative based on the RAIN Program's Mentor Model which has 30 years of proven success in student support and retention.
Mentors have offices across North Dakota, including New Town, Bismarck (United Tribes and Bismarck State College), and Grand Forks to provide academic and support services to MHA tribal members in higher education and vocational programs. Mentors also assist high school/GED graduates in getting college ready.
Support Services
Admissions assistance
Financial aid application assistance (FAFSA® - Free Application for Federal Student Aid)
Scholarship application assistance
Academic advising
Personal and professional development sessions
Retention
Tribal and community resources
Career planning
Referrals
Connect with Us
We'd love to work with you! Complete the Student Information Form at the link below to utilize the MHA Education Pathways support services.
MHA Education Pathways Team